Just finished a lovely fantastic evening of cooking and good talk with friend and co-worker Jess. Originally, was suppose to do lots of cooking since we both love cooking and trying new recipes.
We tried this recipe tonight:
Broccoli Cheddar Quinoa Bites
from the Alidas Kitchen website.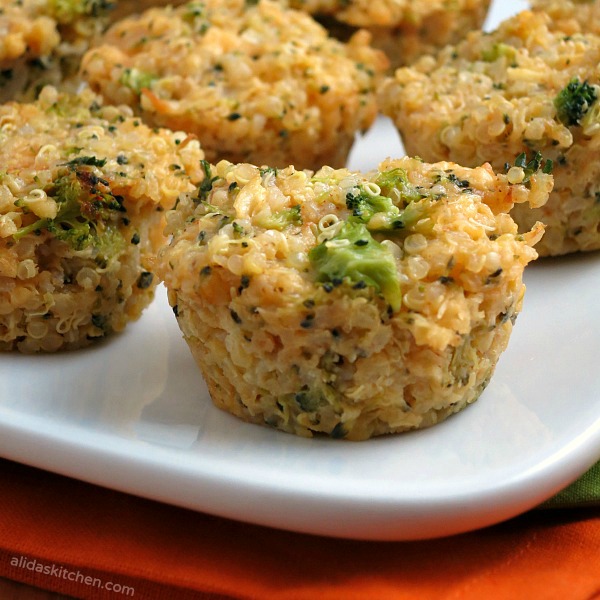 ingredients
¾ cup uncooked quinoa, rinsed
1½ cups water (or vegetable broth or chicken broth)
2 eggs, lightly beaten
2 cups broccoli florets, finely diced
1 cup yellow onion, finely diced
1 garlic clove, finely minced
1½ cups shredded cheddar cheese
½ teaspoon paprika
Crushed red pepper (optional) to taste
instructions
In a medium sauce pan, combine quinoa and water (or broth) and cook according to package directions. Let cool.
In a large bowl, combine cooled quinoa, eggs, broccoli, onion, garlic, cheese and paprika.
Preheat oven to 350° F. Spray mini-muffin tins with cooking spray.
Put a heaping tablespoonful of quinoa mixture into prepared muffin cups. Bake for 15 to 20 minutes, or until edges turn golden brown. Remove from oven and let cool for 5 minutes and then gently remove from pan to cool completely.
Super easy to make though I would make them bigger - probably fill the muffin tin like normal. They do really puff up at all so if you use only the 1 heaping tablespoon you end up with a tiny little bite. We also tried using muffin papers to line the muffin tin which seem to work. Jess will get back to me to make they worked properly.
Also note that we didn't we didn't have any paprika on hand or red pepper.
And I would for sure double this recipe right off the bat next time to make bigger ones.
We finished the evening with a small glass of Amarulla on the rocks which was delish! Perogies will be made next time. Ended up getting side tracked talking , eating supper ( hamburgers and our fave recipe Thai cabbage salad) and watching Hockey Night in Canada.